About
I am a native San Diegan currently living in the Phoenix area so I can sun myself like a lizard on a rock.
I started painting while living in London in 1986 and began showing my art in galleries after moving to San Francisco in 1987.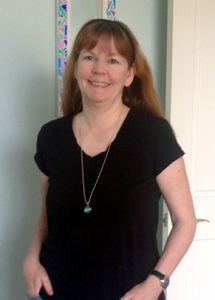 Although my initial college degree was in mathematics, once I started painting, I never looked back. I've had gallery shows in acrylic painting, printmaking, polymer clay, lampworked glass jewelry and digital art. I spent many years trying to restrict myself to a single medium only to break away again and again to try something different. I believe I'll always be exploring new ideas in my art.
Miscellanea:
* My hair has been every color of the rainbow, from red to blue, purple to black.
* I don't eat wheat or sugar, which is hard because my previous favorite foods were Top Ramen and white cake.
* I also work in social media, volunteer as a forum admin for Bogleheads.org
* I have a 7 lb. papillon who is the best dog ever. * My brain loves song lyrics and I remember an inordinate amount of them.
* If I could have a couple more lives, I'd be a meteorologist and a neurologist.